Halloween Decorating Contest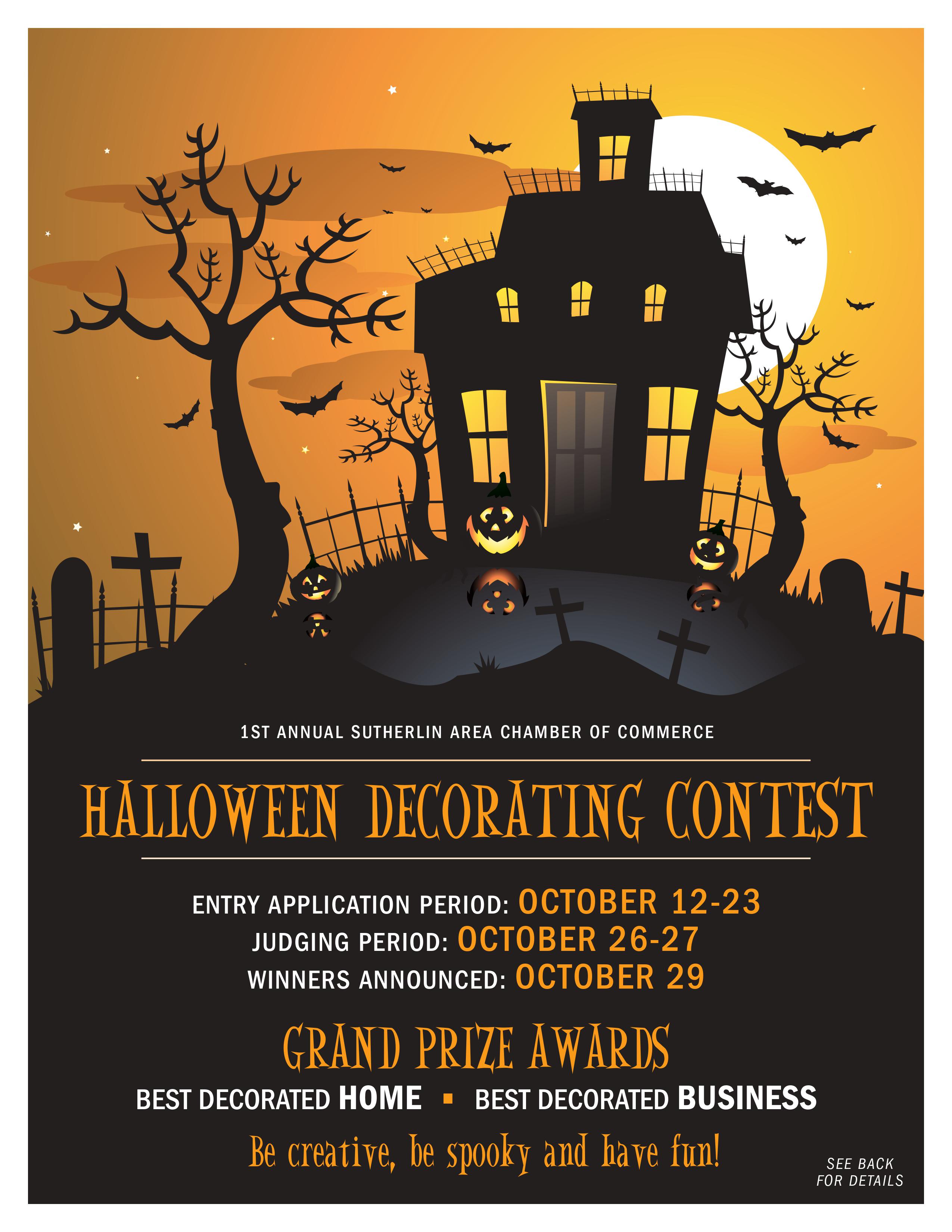 Do you think your neighbor has the best decorated home for Halloween? Do you go all our decorating your home or business for this spooky holiday? Then you need to nominate that spooky house for our Halloween Decorating Contest!
Please read these rules and instructions and if you have any questions contact Sutherlin Area Chamber of Commerce at 541-459-3280.
Entry applications are available at Visitor's Center or by clicking the link provided.
1. Participation is open to all residents and businesses within the city limits of Sutherlin. There will be a Grand Prize in two categories, Best Decorated Home and Best Decorated Business.
2. Entry is free, no cost or fees apply.
3 Entry Applications must be received no later than 5 p.m. on Friday, Oct. 23, 2020.
4. Contest is for exterior decorations only, including decorations in windows that are visible from the exterior. Judging will be done from outside the residence only.
5. Judging will be based on "curb appeal" as viewed from the street only. Therefore only those decorations located on the street side of the property will be judged (corner lots will be judged from both streets). Judges will not enter the property to view back or side yards.
6. Participants agree to have one or more photos of their decorated residence exterior posted on the Sutherlin Visitor Center Website and/or Facebook page as well as used in future promotional publications. Participant agrees there will be no compensation of any kind for said posting or publication.
7. Judging criteria will include: [a] Unique design and creative use of lights and decorations; [b] Storyline or theme; [c] Display and placement of decorations, animated objects, etc.; and [d] Overall presentation.
8. Judging will take place from 6 to 8 p.m. on Monday, Oct. 26. Depending on the number of entries, judging may continue from 6 to 8 p.m. on Tuesday, Oct. 27. All judging will be completed no later than 8 p.m. on Oct. 27.
9. Participants should ensure that all lights, animations and decorations are in place and activated for the judging periods on both nights.
10. Winners will be announced on Thursday, Oct. 29.
Winners will be notified by telephone or email.